Specialty fats are unique in nature and are widely used in the food, pharma and cosmetics industries whereas it has application in other type of industries like Rubber tyres, PVC, textiles, leather & paper auxiliaries etc. as well.
They are substitutes for other types of fats such as cocoa butter, milk fat, butter, etc.
Traditionally cocoa butter was considered as premier constituent and was in high demand. However, in the recent years there has been consistent increase in pricing which has led to look for alternatives and the above specialty fats have gained strong approval in the industry as cocoa butter equivalent (CBE).
Specialty fats are not only used in the Chocolate Industry but also find uses in:
Lotions
Creams
Body butters
Soaps
Cosmetics
Toiletries
Ice Cream Industry
Confectionery
Pharmaceuticals
Milk fat replacers
Non Dairy Whipped Toppings
Kokum tree which is scientifically known as Garcinia Indica is a fruit bearing tree found in Western Ghats of India and especially in Konkan area Of Maharashtra. Kokum fruit contains around 5-8 seeds. The seed contains fatty acids and antioxidants.
The seed is dried before extractionand oil extracted from seed is edible. The average yield of the seed is around 30-35%. The crude fat is then neutralized and bleached to produce the refined kokum butter. Kokum Butter is solid at room temperature but melts once it comes in contact with skin.
Unrefined kokum butter is yellowish in colour whereas refined kokum butter is white in colour and odorless.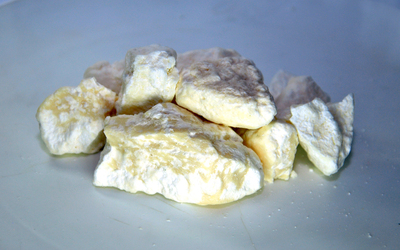 Mango is native to South Asia but now is cultivated in most tropical climates of the world. Almost half of the mangoes are cultivated in India. Fat is extracted from dried kernel of mango also known as Mangifera Indica.
Mango kernels contain 7-11% grayish-white colored fat which is suitable for edible purpose. The oil is semi-solid at room temperatures, but melts when comes in contact with skin. Extracted Mango oil/Butter is neutralized and bleached to produce refined Mango Butter.
Mango butter is soft and this makes it useful in soap making, skin care, and hair care products. Mango butter is similar to shea and cocoa butters in consistency except fatty acid content. Mango butter is rich antioxidants, vitamin A and E. Mango Butter is soft yellow in colour.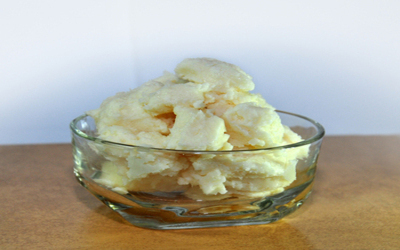 Shorea robusta is popularly known as the Sal tree in India. Sal is indigenous to India. An edible oil extracted from the seeds of Sal is known as Sal Butter.
Seed of the Sal fruit contains approximately 15% oil content. The extracted crude sal oil/fat is greenish-brown and has odor. It is solid at room temperature. Because of this, it is known as sal fat or sal butter.
Crude oil is refined using neutralization and bleaching process to make it odorless and use as cooking oil, insoaps, in the manufacturing of edible ghee (vanaspati), paints, pigments, lubricants, auto oil, & production of biodiesel etc. Refined, modified fat is now often is used as a substitute for cocoa butter in confectionery industry.